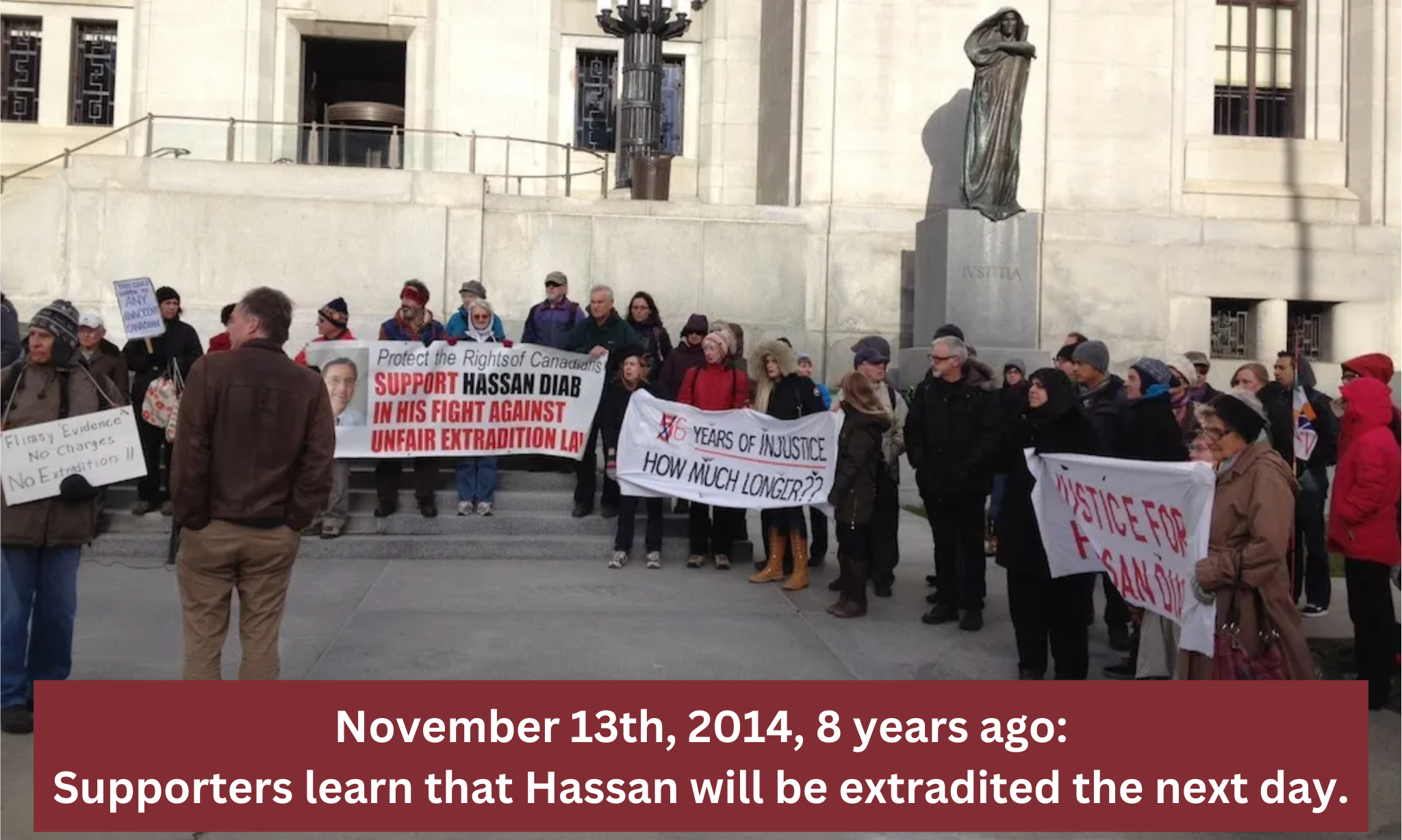 In April 2023, Hassan will face an unfair trial in France for a crime he did not commit. This is despite overwhelming evidence of his innocence. In 2018, two French investigating judges dismissed all charges against him and freed him unconditionally. All the so-called "evidence" that was presented by France to justify Hassan Diab's extradition in 2014 has been withdrawn, discredited, or rejected. France has offered NO new "evidence" against Hassan. On the contrary, the alibi evidence that Hassan was not in France at the time of the 1980 Paris bombing has proven unshakable.
PM Trudeau must honour the words he uttered in 2018: "I think, for Hassan Diab, we have to recognize first of all that what happened to him never should have happened."
The Canadian Government must protect Hassan and commit to refusing any future extradition request from France. Check out the recent rally and press conference in support of Hassan Diab below, and take action to ensure that there will be no further miscarriage of justice:
Send an email using ICLMG's one-click tool and share widely!
Letter in English: https://iclmg.ca/diab-letter/
Lettre en français: https://iclmg.ca/fr/lettre-diab/
Sign and share the LeadNow petitions to protect Hassan from further injustice
Petition in English: https://you.leadnow.ca/petitions/pm-trudeau-protect-hassan-diab-from-further-injustice-say-no-to-another-extradition
Pétition en français: https://you.leadnow.ca/petitions/pm-trudeau-protegez-hassan-diab-de-toute-nouvelle-injustice-dites-non-a-une-deuxieme-extradition
November 14th online press conference, hosted by ICLMG
November 13th rally in Ottawa, organized by the Hassan Diab Support Committee
For more information on the case of Hassan Diab, read our webcomic, watch our animated version of the comic, or visit justiceforhassandiab.org.
Thank you!
Since you're here…
… we have a small favour to ask. Here at ICLMG, we are working very hard to protect and promote human rights and civil liberties in the context of the so-called "war on terror" in Canada. We do not receive any financial support from any federal, provincial or municipal governments or political parties. You can become our patron on Patreon and get rewards in exchange for your support. You can give as little as $1/month (that's only $12/year!) and you can unsubscribe at any time. Any donations will go a long way to support our work.

You can also make a one-time donation or donate monthly via Paypal by clicking on the button below. On the fence about giving? Check out our Achievements and Gains since we were created in 2002. Thank you for your generosity!