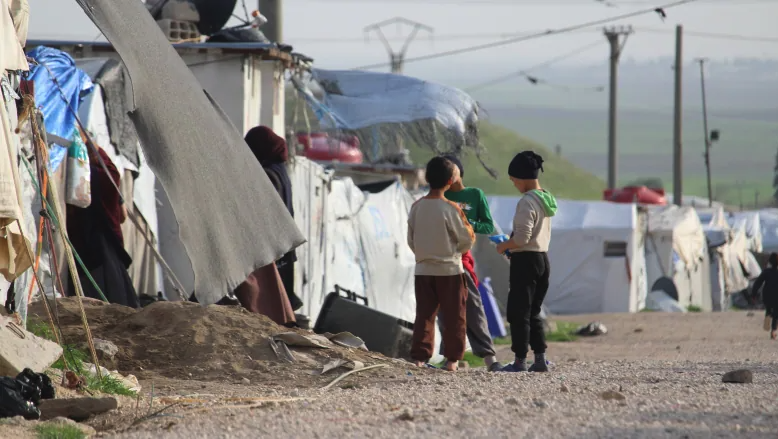 This week brought important, but mixed, news about the approximately 40 Canadians held in indefinite detention in camps and prisons in Northeastern Syria.
The good news was that four Canadians, Kimberly Polman, Oumaima Chouay, and Chouay's two children, were repatriated to Canada. All four had spent years detained in a camp established for the families of individuals accused of being members of Daesh (ISIS), which is administered by the Autonomous Administration of North and East Syria (AANES).
This was the first time, it appears, that the Canadian government itself has been directly involved in both the release and repatriation of Canadians being held in these detention camps, although the government has refused to discuss specifics about the operation beyond thanking the AANES and US government for their support.
Previously, a five-year-old girl who was orphaned was able to return to Canada in 2020. In 2021, a four-year-old girl was repatriated in, followed by her mother eight months later. However, those repatriations were coordinated by Patrick Galbraith, a former US diplomat, and not the Canadian government. It was only once they had escaped the camps and arrived at the Canadian Consulate in Erbil, Iraq, that the Canadian government granted them travel documents to return to Canada. In the case of the mother, it was only with the threat of a lawsuit that the government issued the documents.
This means that approximately 40 Canadians, including 22 children, 10 women and several men, remain in indefinite detention in Northeastern Syria. They face no prospect of trial, and will not be released without outside intervention.
While some have asked whether this may signal a move by Canada to repatriate all its citizens, actions by government lawyers point otherwise.
The second recent development is that the Canadian government has signaled it will continue to fight a case brought by the families of Canadians detained in NE Syria to force the government to act. Specifically, the case was set to go to trial on Nov. 2, 2022, but is now delayed for a month thanks to the government filing a motion to have evidence examined in closed hearings for national security reasons. Those hearings will take place over the next month, and the new hearing date is set for early December. If the federal government were serious about resolving this crisis, they would not be filing delay tactics in court. As legal experts who have brought similar suits against the government have pointed out, this kind of application – known as a Section 38 application – is a delaying tactic that the government has used in national security cases the past. Apart from delaying the hearings, it means that the judge will hear arguments behind closed doors, and without the presence of the families' lawyers, about whether evidence in the case will be kept secret (and away from the families) for national security reasons.
The federal government clearly intends to do all it can to avoid a legal decision ordering it to support the return of these 40 Canadians, despite the fact that they are detained in life-threatening conditions, without access to education, healthcare or the possibility of release. They will remain in these conditions for the foreseeable future, barring any major change in the situation in the camps. This is in clear violation of their fundamental human rights, regardless of concerns of whether any of the adults were involved in terrorism or other illegal activities while in Syria. Each deserves a chance to live a life free of arbitrary detention and to be integrated back into society (including the possibility of facing charges and court hearings back in Canada).
While the evidence behind the proceedings for both Polman and Chouay are still undisclosed, the government has shown that they are able to take measures to protect the security of Canadians when the individuals return to Canada. Kimberly Polman has already been placed under a peace bond with strict conditions, including wearing an ankle monitor, not driving a car and not possessing a cell phone or other device that can access the internet, while Oumaima Chouay has been charged with multiple terrorism offences and currently remains in prison awaiting a bail hearing.
It is imperative that, following these repatriations, pressure remain on the government to allow all Canadians detained in Northeast Syria to return. While the most pressure has been on the return of children, often accompanied by calls for their mothers to also be allowed to return, we must avoid a situation where the "good detainees" are freed while the "bad" – male Canadian prisoners, along with women without children in the camps – are left to suffer in these camps because they are viewed as more of a risk, or as already guilty of a crime, without having ever been charged or tried.
We have seen throughout the so-called "War on Terror" how individuals – mainly Muslim men – have been labeled as criminals, terrorists and threats to our security, and allowed to be detained in life threatening, rights-violating situations, including being tortured, all without evidence or based solely on suspicions and profiling.
This past summer, a group of United Nations Special Rapporteurs issued a devastating rebuke of Canada's refusal to provide support to detainees and to put an end to their arbitrary detention in a finding in the case of UK-born Canadian Jack Letts. This was in addition to calls from the NDP, the Green Party of Canada, and multiple human rights groups for the government to act immediately to bring these Canadians home.
It is imperative that if, as Prime Minister Trudeau has said, this government truly adheres to their obligations to protect the rights of Canadians, no matter where they are in the world, that they act without delay to repatriate the remaining Canadian detainees in Northeastern Syria.
Since you're here…
… we have a small favour to ask. Here at ICLMG, we are working very hard to protect and promote human rights and civil liberties in the context of the so-called "war on terror" in Canada. We do not receive any financial support from any federal, provincial or municipal governments or political parties. You can become our patron on Patreon and get rewards in exchange for your support. You can give as little as $1/month (that's only $12/year!) and you can unsubscribe at any time. Any donations will go a long way to support our work.

You can also make a one-time donation or donate monthly via Paypal by clicking on the button below. On the fence about giving? Check out our Achievements and Gains since we were created in 2002. Thank you for your generosity!