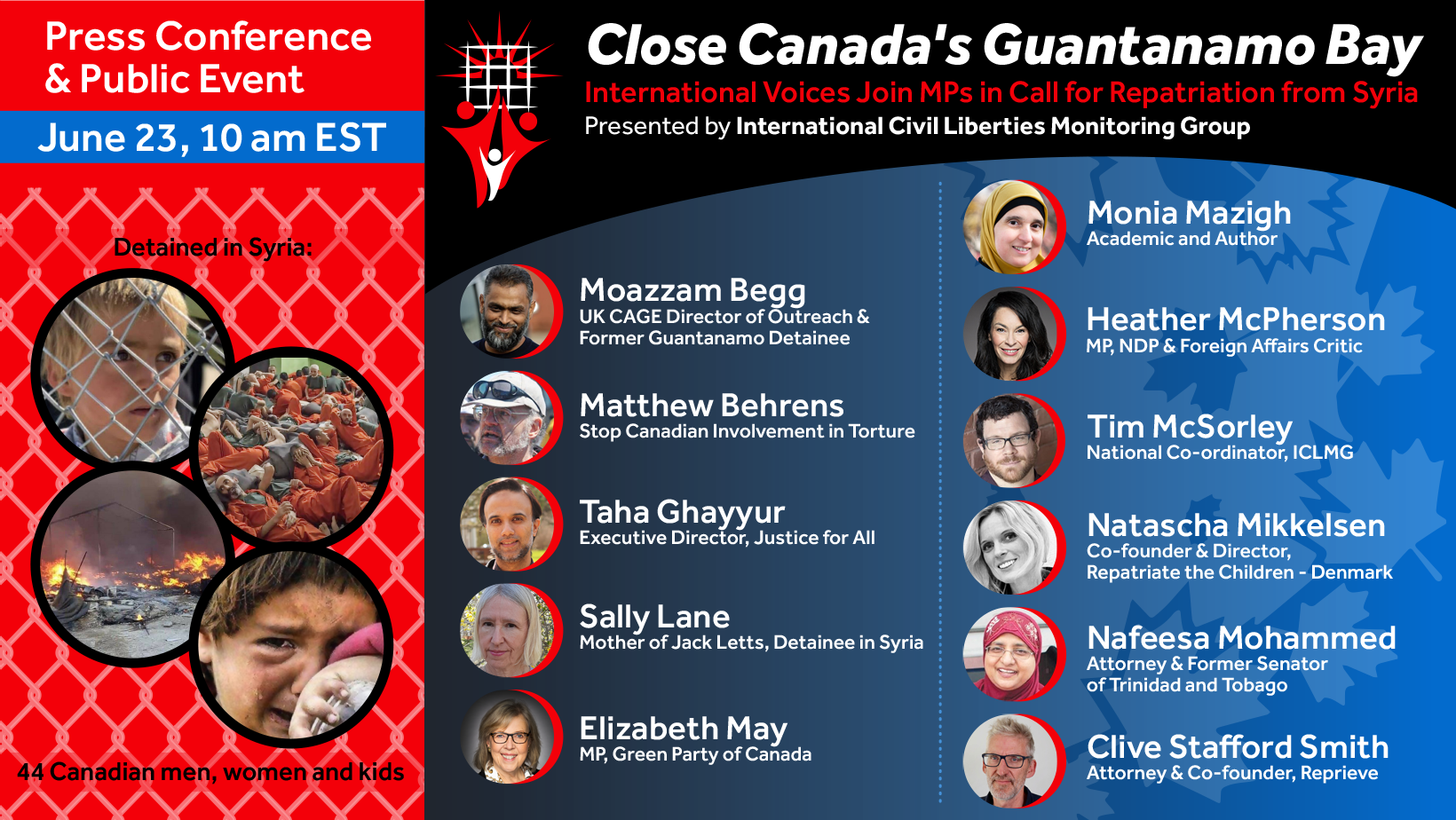 For Immediate Release
MPs Join Former Guantanamo Detainee and International Voices Demanding Canada Repatriate 44 Citizens from Northeast Syrian Detention
WHEN: Thursday, June 23, 2022, 10 am EST
WHERE: Online, Register at https://us02web.zoom.us/meeting/register/tZYrc–urTgoE9Mwvl1lk6HOhESjG9Eh5zfw
WHAT: International Media Event calling on Canada to accept and act upon the longstanding offer to hand over 44 Canadian men, women & kids from arbitrary detention in Northeast Syria under conditions akin to torture. The Canadian government has become an international outlier in refusing to repatriate its own citizens, drawing  criticism from the United Nations, Human Rights Watch, and other human rights groups.
WHY: A growing number of international and domestic voices have long documented the appalling conditions under which their nationals are forced to survive in a series of prisons and camps that have been likened to the illegal detention facility at Guantanamo Bay. They are increasingly breaking their silence and demanding that governments like Canada respect their own legal commitments to honour the universal rights of their citizens, regardless of their heritage, religious belief, or political opinion.
WHO:
Moazzam Begg, former Guantanamo Bay detainee and outreach director of Cage, UK
Nafeesa Mohammed, attorney and former Senator of Trinidad & Tobago, suing her government for repatriation
Clive Stafford Smith, human rights lawyer, who was one of the first lawyers into Guantanamo 20 years ago, and co-founder of Reprieve
Monia Mazigh, author and academic
Elizabeth May, Green Party MP
Taha Ghayyur, Justice for All
Natascha Mikkelsen, Repatriate the Children, Denmark
Sally Lane, author and mother of Jack Letts, detainee in Syria
Tim McSorley, International Civil Liberties Monitoring Group
Matthew Behrens, Stop Canadian Involvement in Torture
Heather McPherson, NDP MP and Foreign Affairs Critic
OTTAWA – On Thursday, June 23 at 10 am EST, Green Party Elizabeth May and NDP Foreign Affairs Critic Heather McPherson will join an international media call to demand the repatriation of 44 Canadian citizens arbitrarily held for years in camps and prisons in northeast Syria under conditions akin to torture.
Among those speaking will be the mother of one of the detainees who, along with other relatives of those held in Syria, is  being forced into Federal Court this November to seek a repatriation order; an activist who fought to free her husband from Syrian detention despite the lies told about him by Canadian officials; a Danish expert who has successfully repatriated that country's citizens without issue; and those with direct experience of Guantanamo Bay both as a lawyer and as a detainee.
Moazzam Begg, who was wrongfully held at Bagram, Kandahar and Guantanamo Bay and authored the celebrated "Enemy Combatant," will discuss his personal experience of being in Syria 2012/13 and his observation that "as a former prisoner of the US, it appears to me that conditions in prisons in Northern Syria are worse than Guantanamo."
Canada has invested $2.5 million to repatriate Iraqi nationals from these same camps and prisons, yet not a cent has been spent on repatriation of Canadians.
"How can the Government of Canada celebrate its lead role in developing a Global Declaration Against Arbitrary Detention while it has refused to end the arbitrary detention of 44 of its citizens held by Canada's ally in NE Syria?" asks Tim McSorley, national coordinator at the International Civil Liberties Monitoring Group, a national coalition of Canadian civil society organizations that works to protect and promote human rights and civil liberties in the context of the so-called "war on terror."
McSorley notes that Canada's Kurdish allies in Rojava have insisted for years that a handover of the Canadians is possible as long as Canada sends an official representative to receive them, one who would be protected by a US Military escort.
"How can the Government of Canada claim compliance with the Convention Against Torture when it is well aware that 44 of its citizens are held under conditions akin to torture?" he continues.  "How can the Government of Canada oppose repatriation of its own citizens when it is actively funding the repatriation of Iraqi nationals from the same camps and prisons in NE Syria? How can the Government of Canada celebrate the 40th anniversary of the Charter of Rights and Freedoms when it is actively denying these 44 citizens their Section 6 Charter right to return home? These are all questions that need to be answered in the interest of saving the lives of these very vulnerable citizens."
To attend the media call register at https://us02web.zoom.us/meeting/register/tZYrc–urTgoE9Mwvl1lk6HOhESjG9Eh5zfw
For further information contact: Tim McSorley of the International Civil Liberties Monitoring Group at (613) 241-5298.