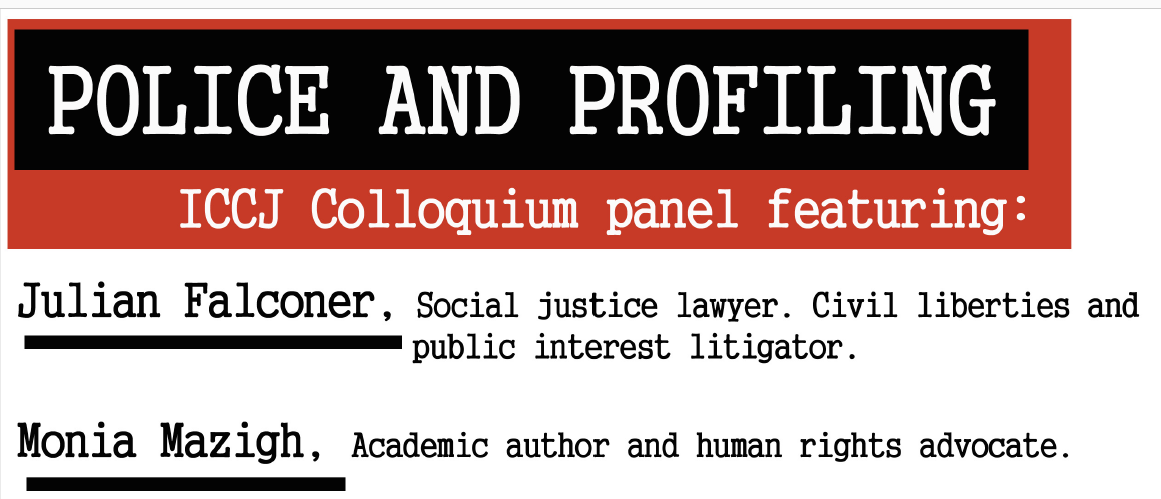 The Institute of Criminology and Criminal Justice (ICCJ) of Carleton University and the ICLMG invite you to join us for an evening of critical discussion on issues related to racial profiling by police in Canada.
Panelists:
Julian Falconer: Social justice lawyer, civil liberties and public interest litigator
Monia Mazigh: Academic author and human rights advocate
Moderated by Yavar Hameed, lawyer and human rights activist
Address:
Residence Commons
Carleton University, Ottawa
Room 270
Map
RSVP on the Facebook event and invite your friends.
We hope to see you there!

Since you're here…
… we have a small favour to ask. Here at ICLMG, we are working very hard to protect and promote human rights and civil liberties in the context of the so-called "war on terror" in Canada. We do not receive any financial support from any federal, provincial or municipal governments or political parties. Any donations will go a long way to support our work.
On the fence about giving? Check out our Achievements and Gains since we were created in 2002. Thank you for your generosity!