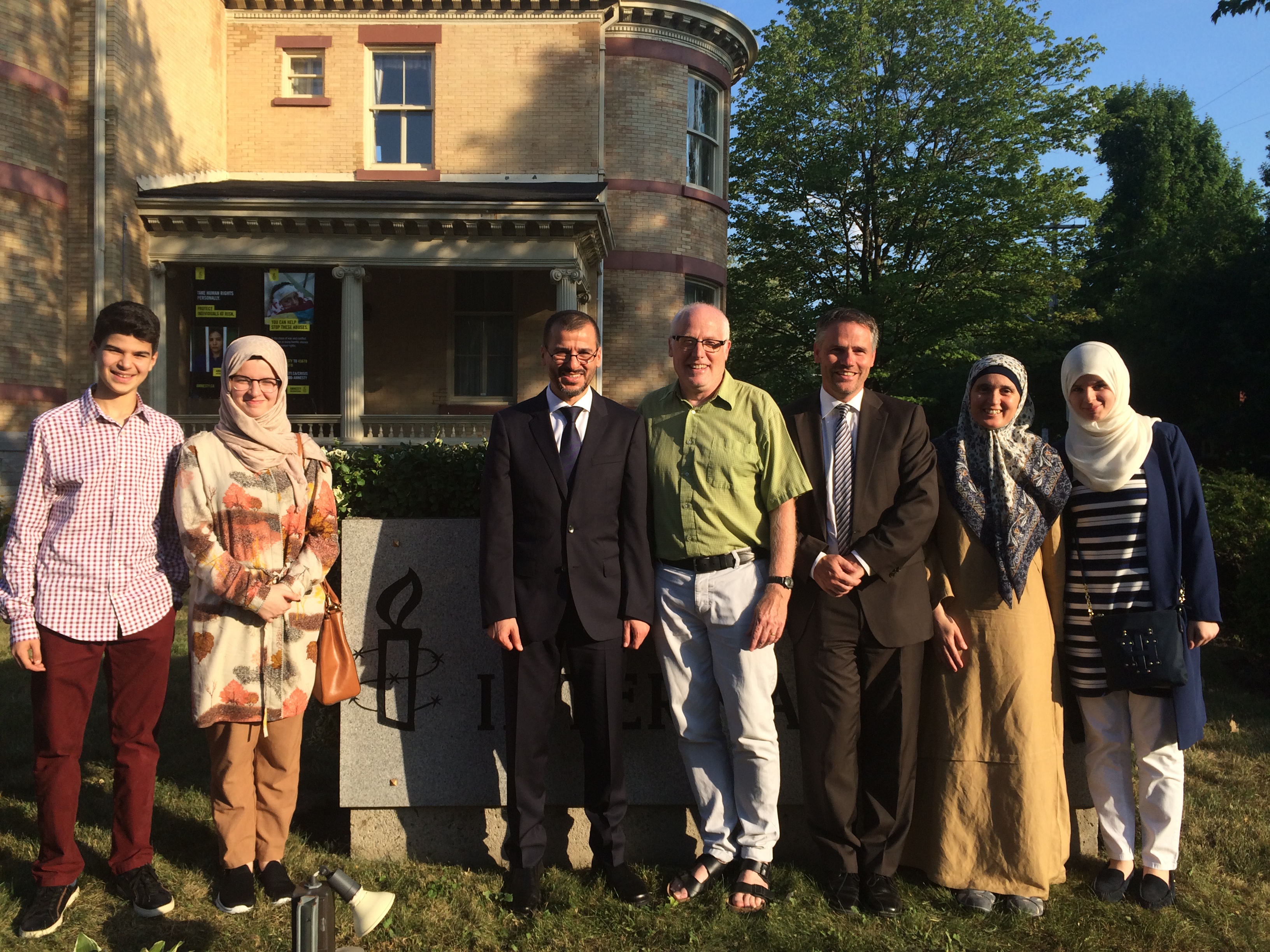 By Monia Mazigh – Last summer, almost a year ago, I sat down with Marwa Alaradi at the boardroom of the International Civil Liberties Monitoring Group (ICLMG). Her sister, Nour, other members of her family and some friends accompanied her. Marwa Alaradi, could have been my daughter, she was 18 years old, smart and eloquent. I felt my heart aching listening to her story. Another tragic story of another Canadian detained abroad. Salim Alaradi, a Canadian businessman of Libyan descent, was arrested by the Emirati state security agents, while vacationing with his family in Dubai. He was taken in front of his wife at the lobby of their hotel to never be seen again. Marwa Alaradi, as the eldest child of the family, felt the need to stand by her mother and to speak on behalf of her father. And she did it extremely well.
ICLMG immediately decided to take the case and started by speaking to the media, creating awareness but also putting pressure on the government. A letter to the former Prime Minister, Stephen Harper, was sent in joint efforts with Amnesty International and other organizations. The government remained silent. Salim Alardi remained in prison in the United Arab Emirates. But slowly, information about the torture of Salim Alaradi began to surface. Human Rights Watch and Amnesty International researchers and the United Nations Human Right Commission denounced the arbitrariness of the imprisonment of Salim Alaradi. The international pressure was building but still Canada's response was shy, almost inaudible.
After, the election of the Liberals, as a human right activist, I started perceiving some change. I received a reply to a letter I sent about Salim Alaradi, in which the newly appointed Foreign Affairs Minister, Stéphane Dion, promised us that the case of Salim Alaradi was one his priorities.
This is exactly what should have been done since day number one. Even more, as a country, we need to have a clear strategy whenever a Canadian is detained abroad in, caught in a political conundrum. Such a strategy was suggested by Amnesty International Canada last winter, ICLMG was one of the signatories on it. Another one was presented by the Rideau Institute, Gard Pardy a former diplomat and former Director of Consular Affairs Bureau, was one of its main instigator. Unfortunately, so far, those excellent proposals remain on the shelves of the bureaucrats and politicians and meanwhile political prisoners abroad are left to whims and moods of the politicians of other countries.
Marwa Alaradi didn't relent in her efforts. Her father was lucky, perhaps without her perseverance; her would be still in a dark cell in Al Wathba prison in UAE.
After, almost 18 months of detention, the Emirati government decided to bring charges to Salim Alaradi, falsely accusing him of supporting terrorists groups in Libya. A trial was scheduled and kept being postponed. Canadians officials attended the trial. The voice of Canada started to emerge. Media attention grew. An article in the Washington Post about the case of an American citizen, accused and detained along with Salim Alaradi, created a big turmoil ain the US and put the Emirati Ambassador to the US on the defensive. That was exactly what was needed. Put the finger upon that "shaky image" that UAE would like to build and burst it by exposing the human rights abuses including the complicity of our own governments.
Salim Alaradi was acquitted by the Emirati court from all the charges. After, almost two years in prison, he came back home, frail and weak.
Yesterday, joined with Alex Neve, Secretary General of Amnesty International, I met Salim Alaradi as well as Marwa, Nour and his son Mohamed. They were all smiling, ready to start new beginnings.
Nevertheless, accountability, investigation of torture and lessons learned remain valid and crucial points to be addressed.
Last but not least, Canada shouldn't forget to adopt sooner than later, a policy to help its citizens detained abroad. Leaving it up to the hard work of a family or to the good will of some politicians would never replace a clear, strong and coherent policy applied for all Canadians when they needed the most.
Since you're here…
… we have a small favour to ask. Here at ICLMG, we are working very hard to protect and promote human rights and civil liberties in the context of the so-called "war on terror" in Canada. We do not receive any financial support from any federal, provincial or municipal governments or political parties. Any donations will go a long way to support our work.
On the fence about giving? Check out our Achievements and Gains since we were created in 2002. Thank you for your generosity!