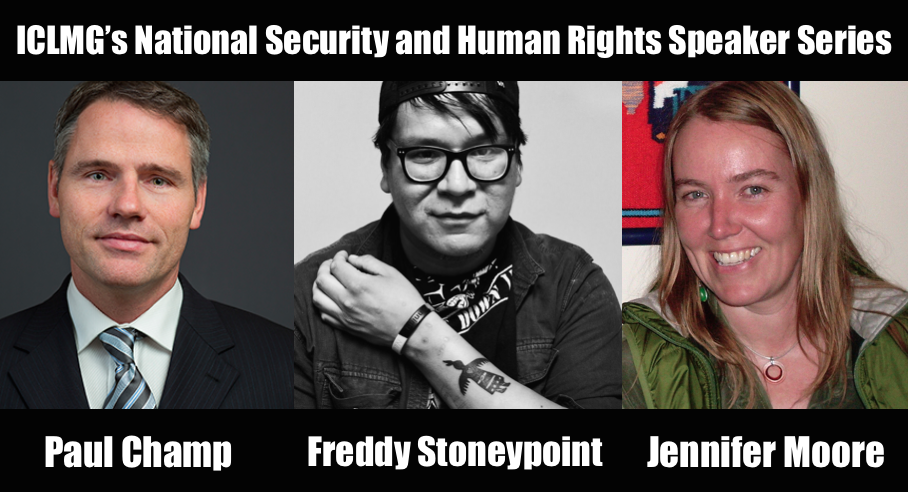 *******
Join us for our third panel:
"National Security and the Criminalization of Dissent
in Canada and Abroad"
When: Wednesday November 15, 2017 from 7:30 to 9:30PM
Where: 25OneCommunity, 251 Bank St, Ottawa, 2nd floor
What: Freddy Stoneypoint will talk about the use of national security discourse, laws and agencies to silence, discredit and criminalize Indigenous struggles for land, water, rights and sovereignty in Canada. Jen Moore will talk about the use of anti-terrorism and national security laws to quash dissent from Indigenous and environmental activists in Latin America, specifically around Canadian extraction projects. Both will speak of their personal experience with criminalization of dissent in Canada and in Peru. Last but not least, Paul Champ will talk about the failure of Canadian oversight mechanisms to protect environmental activists from national security agencies' surveillance.
Our National Coordinator, Tim McSorley, will be moderating, and we will have a Q&A after each presentation. Le panel sera en anglais mais vous pourrez poser vos questions en français.
The event is PWYC and open to everyone. We will be collecting donations in support of ICLMG's work. If you want to know why you should give to ICLMG, check out our long list of achievements and gains since our creation in 2002.
If you cannot attend, please consider supporting our work at patreon.com/iclmg or iclmg.ca/donate.
This panel is the third of the International Civil Liberties Monitoring Group's National Security & Human Rights Speaker Series, sponsored by CUPE, the Canadian Union of Public Employees.
ICLMG will be hosting one panel per month for 5 months on an important and timely issue related to national security and human rights in Canada. Stay tuned for the next dates and topics.
Invite your friends and we hope to see you there. Thank you!
---
Who are our panelists?
Freddy Stoneypoint is an Ojibwe land defender and "ecoterrorist" from Sagamok Anishinawbek First Nation. Part of a land heist with the Bawating Water Protectors, Freddy helped organize the Reoccupation ceremony of Parliament Hill during #Canada150, where he was briefly detained with nine others. Later in August, he was arrested in a land intervention near an oil exploration site owned by Junex in so-called Quebec. Although the corporation itself was trespassing on the unceded ancestral lands of Mi'kma'ki, Freddy himself was arrested and placed into detention for four nights. Released on bail with several conditions and charges, he is currently studying Sociology and Indigenous Studies as a second-year undergraduate student at Carleton University.
Jen Moore is the Latin America Program Coordinator at MiningWatch Canada. She works with communities, organizations, and networks struggling with mining issues throughout Latin America. Prior to joining MiningWatch, she worked as a freelance print and broadcast journalist with strong interests in media democracy, collective rights and Canadian foreign policy in Latin America, principally collaborating with independent and alternative media.
Paul Champ is a litigation lawyer with a focus on human rights, employment, labour, and public interest law. Paul has developed a practice in national security law and has acted as counsel in several important constitutional law cases dealing with fundamental human rights, including the settlement for Benamar Benatta, rendered to the US by Canadian officials and emprisoned for 5 years without charges, the case of Abdelrazik v. Minister of Foreign Affairs, in which the court ruled that Canadian government officials violated a Canadian citizen's Charter rights by arranging for his unlawful detention by Sudanese authorites and refusing to provide a passport, and the case of Canada v. Khadr (2008), which found that Canadian government officials violated the Canadian Charter of Rights and Freedoms by interrogating a Canadian youth detained by U.S. in Guantanamo Bay, Cuba.
---
The International Civil Liberties Monitoring Group is a national coalition of 45 Canadian civil society organizations that was established in the aftermath of the September, 2001 attacks in order to protect and promote civil liberties and human rights In the context of the so-called 'war on terror'. Subscribe to our weekly News Digest, like our Facebook page, and follow us on Twitter @iclmg. Thanks!
Since you're here…
… we have a small favour to ask. Here at ICLMG, we are working very hard to protect and promote human rights and civil liberties in the context of the so-called "war on terror" in Canada. We do not receive any financial support from any federal, provincial or municipal governments or political parties.
You can become our patron on Patreon and get rewards in exchange for your support. You can give as little as $1/month (that's only $12/year!) and you can unsubscribe at any time. Any donations will go a long way to support our work.

You can also make a one-time donation or donate monthly via Paypal by clicking on the button below. On the fence about giving? Check out our Achievements and Gains since we were created in 2002. Thank you for your generosity!